How To Make "Who Wants To Be A Millionaire" Quiz Game Show in PowerPoint
It is time to take your PowerPoint Presentation up a notch. Let's create Game-Shows in PowerPoint and make you the host of Who Wants To Be A Millionaire.
Let us bring this family-friendly television game-show to your classroom or workspace to spice up the interactivity and increase the engagement of the participants.
This PowerPoint Game has music, sound effects, animations and more! We shall also be showing you how to add lifelines soon!
Let's get started with just 13 simple steps: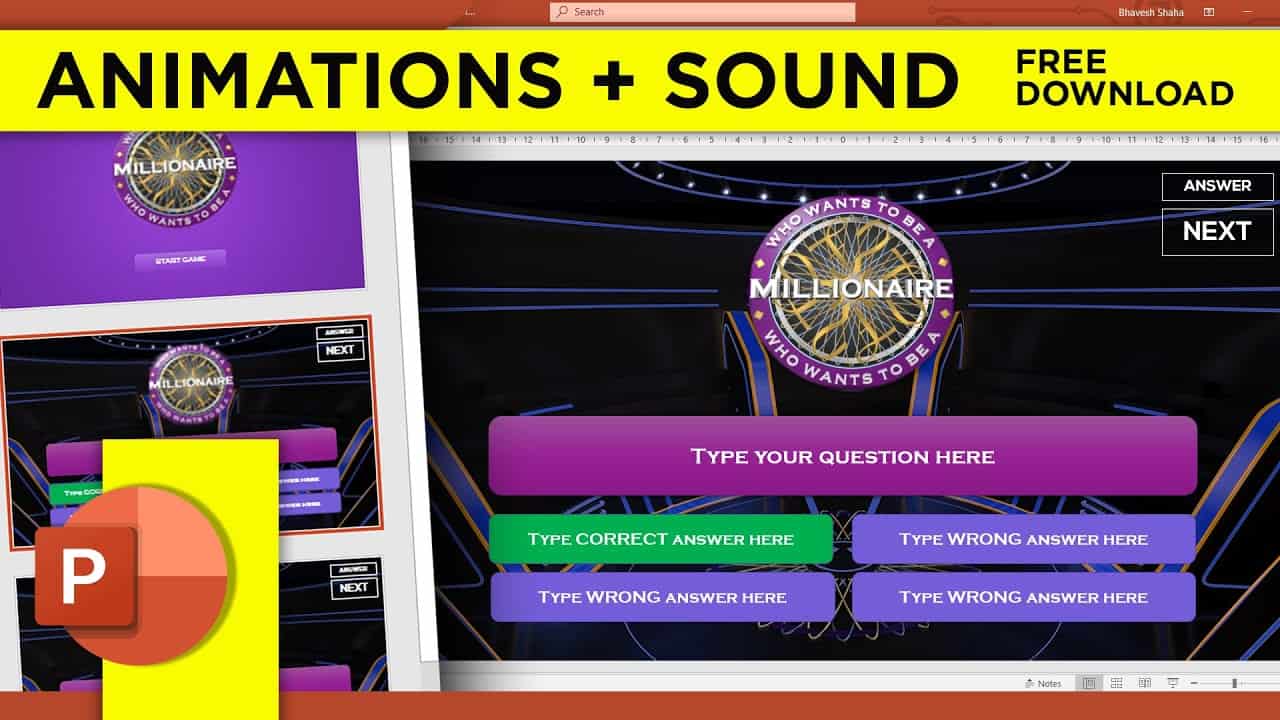 Total Time Needed:

15 minutes
Here is how we create an Interactive PowerPoint Quiz Game:
Step 1: Create Quiz Game Title Slide
In the first slide, add the Millionaire Game Logo and a "START GAME" Rectangle Shape.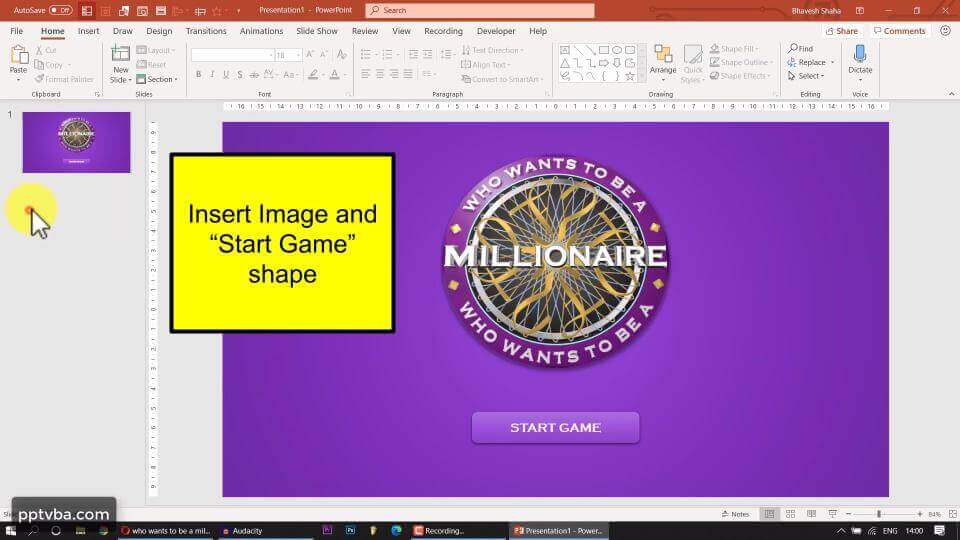 Step 2: Create Question Slide
Make a new slide, insert your background and the logo. Add 5 rectangle shapes: 1 for the question and the other 4 for the multiple answer choices.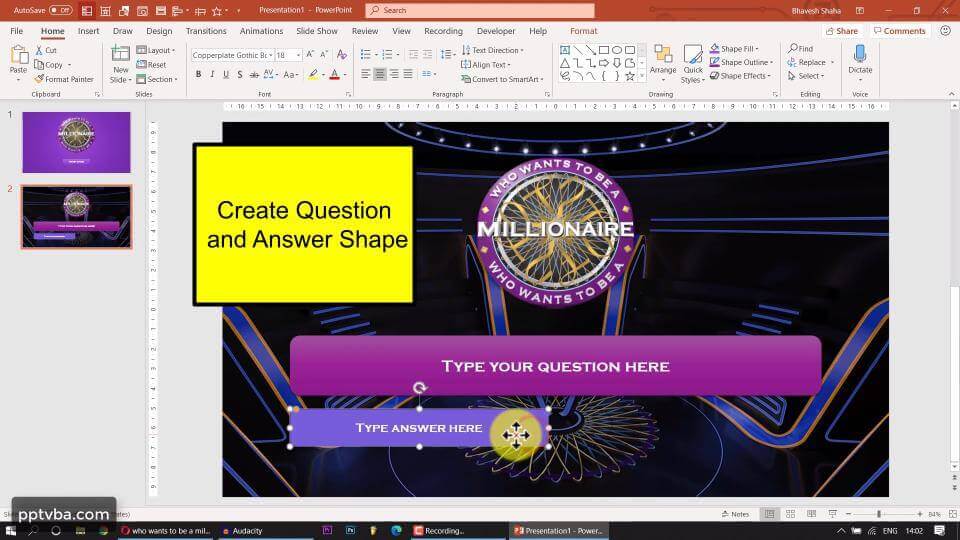 Step 3: Insert Correct Answer Shape
The colour of the correct answer shape must change to green when clicked. Select the shape and add the "Fill Colour" Emphasis Animation. Under Effect Options, change the colour to green.
Step 4: Insert "NEXT" Shape
Create a new shape and type "NEXT". Add a "Fly In" Entrance Animation to it.
Change the shapes to the following names in the selection pane: Correct answer shape to "A1"; Next shape to "NEXT"; Question shape** to "Q".This will make it easier to arrange our animations.
Step 6: "NEXT" Shape Trigger Animation
Add a trigger animation such that the "NEXT" Shape appears when "A1" (correct answer) is clicked.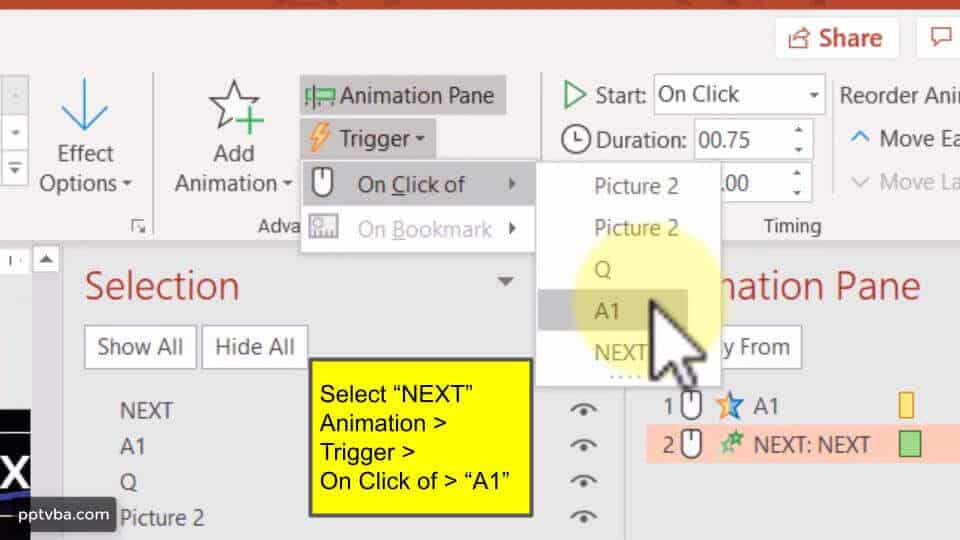 Step 7: "A1" Shape Colour Trigger Animation
imilarly, "A1" Shape's colour must change only when it is clicked. So, select "A1" Shape's Fill Colour Emphasis Animation and add a trigger to itself. Make sure that is it set to start "with previous".
Step 8: Adding sound effects for answers
Select the "A1" Shape (Correct Answer Shape). Go to Insert > Action > Play Sound and you can choose your own custom sound effect for correct answers.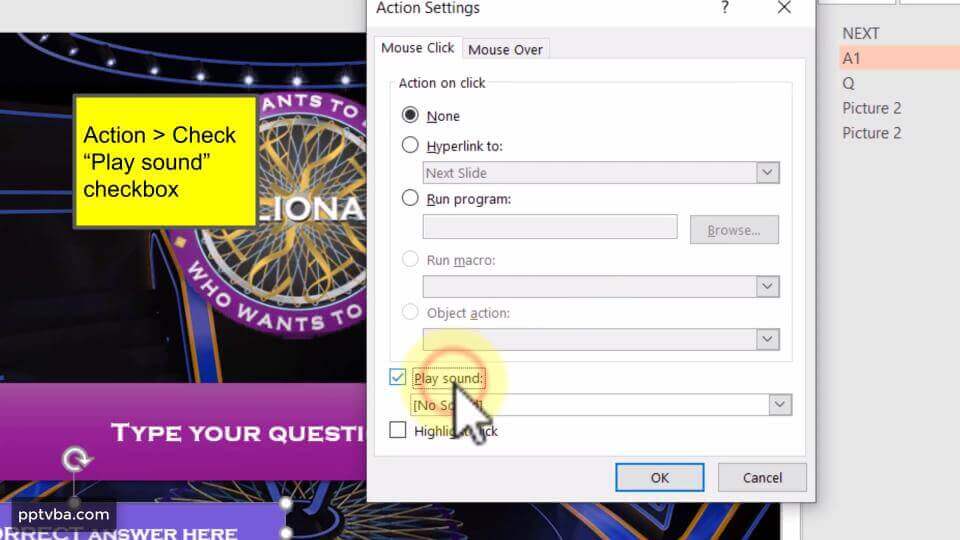 Step 9: Duplicate Answer Shapes
We can duplicate "A1" to create three wrong answer shapes. Select "A1", hold Ctrl+Shift and drag the "A1" Shape. Rename them to A2, A3 and A4. Under their respective "Fill Colour" Emphasis Animation Effect, change it to red colour.
Step 10: Enable Kiosk Mode
Go to Slide Show > Set Up Slide Show > Browsed At A Kiosk.To make sure the only way to proceed the game is by the "start game" shape. Else, we would be able to skip the question slides and navigate in slide-show mode.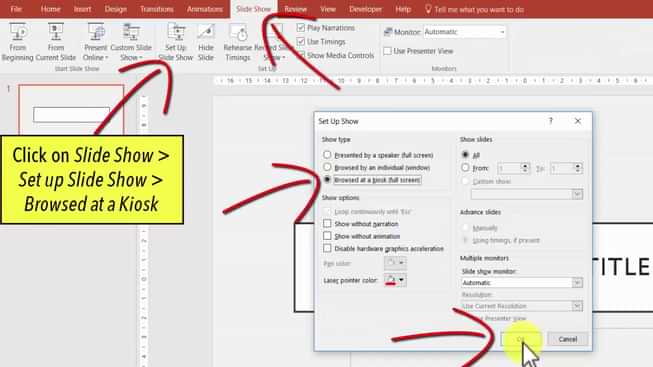 Step 11: Add Hyperlink to "Start Game" Button
Select the "Start Game" Shape. Go to Insert > Action > Hyperlink To > Next Slide
Step 12: Creating more question slides:
Duplicate the 2nd slide and have as many questions as you'd like. Create a 'Thank You for Playing' ending slide at the end.
Step 13: Shuffle Answer Shapes Position
Shuffle around the correct and wrong answers.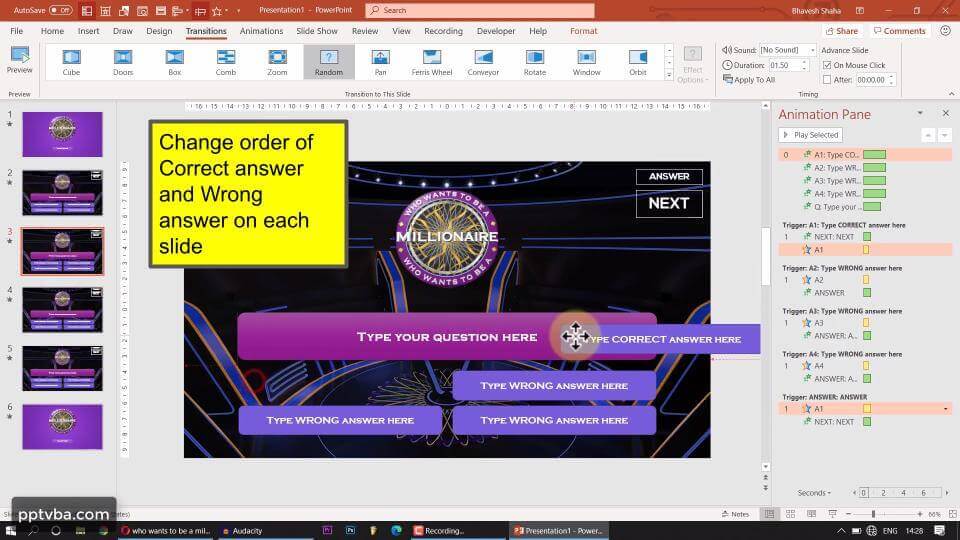 Free PowerPoint Game Template
I have two different versions of the free "Who Wants To Be A Millionaire" PowerPoint templates as I strongly believe in providing free templates for educational purposes and supporting teachers in these unprecedented times.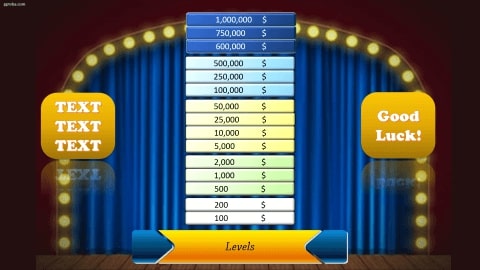 WHO WANTS TO BE A MILLIONAIRE
POWERPOINT TEMPLATE
One-time payment to make unlimited quizzes!
Add your questions IN THIS
POWERPOINT TEMPLATE & get started!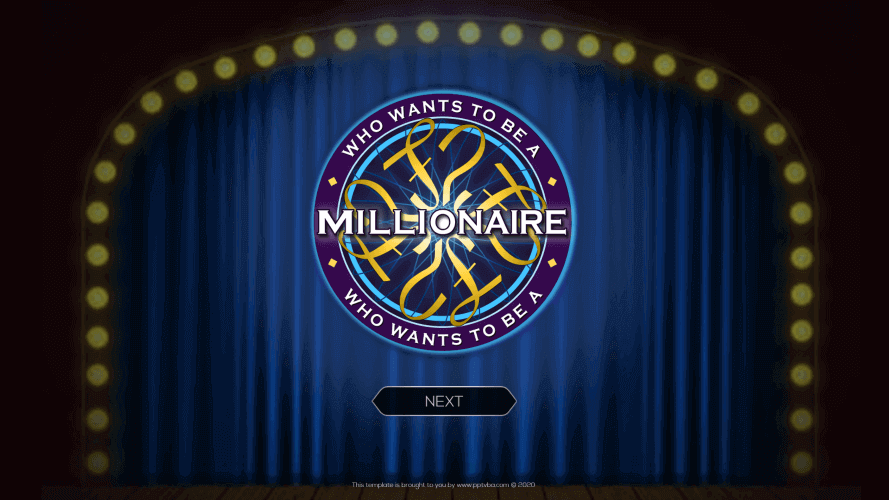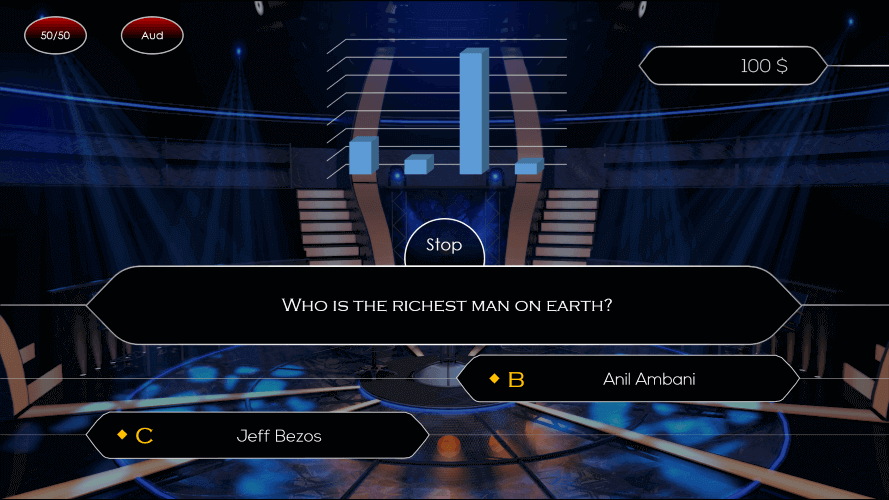 Use code "ITEACHTHEFUTURE" for 10%